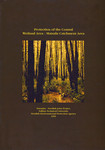 «Protection of the Coastal Wetland Area - Matsalu Catchment Area»
Estonian-Swedish Joint Project
118-leheküljeline suures formaadis ning pehmes köites raamat (inglise keeles)
Saame kohe teele panna
Asukoht: Värvi 5 ladu
Heas seisus kasutatud raamat
Hind: 11.50 €
Tutvustus
Eesti-Rootsi ühisprojekti käigus valminud uurimus Matsalu märgalast ja sealsest looduskaitsealast.
Summary:
Summary Introduction Objectives ang goals of the project Natural geography and climate Human geography and infrastructure The state of aquatic environment Pollution sources Identification of critical and subcritical areas. GIS - mapping of sources and water quality Management and protection of Matsalu catchment area Literature
In 1992, HELCOM adopted, for the period ending 2012, a Joint Comprehensive Plan (JCP) for protecting the environment of the Baltic Sea Catchment Area in which management plans for coastal lagoons and wetlands play an important role.
«Management of the Matsalu Wetland Catchment Area» is a joint Estonian-Swedish project, intended as a pilot project for similar areas in Estonia and other parts of the Baltic Sea area in matters of water protection, nature conservation and biodiversity. The Matsalu Catchment Area and Haapsalu in Western-Estonia are included in the HELCOM JCP as «hot spots».
The catchment area of the Matsalu Bay in Western-Estonia is a large, flat lowland and covers 3640 km2. The Matsalu Bay Nature Reserve Area (486 km2), in the western part of the drainage area, includes Matsalu Bay (about 300 km2), an internationally important wetland and a unique bird resting and migration area, added to the Ramsas Convention in 1976.
The main problem in this region is increasing antropogenic eutrophication of water ecosystems in the very shallow bay and drainage area.