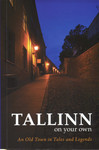 Tallinn on your own
An Old Town in Tales and Legends
Saksa keelest tõlkinud Arthur Kincaid
141-leheküljeline tavaformaadis ja pehmes köites raamat (inglise keeles)
Raamat on läbi müüdud
Tutvustus
How Tallinn got its names

There are several legends about the earlier town name «Reval». After the Danish King Valdemar had conquered the North Estonians and converted them to Christianity, he often rode out hunting with his courtiers. Once, near the town, he caught sight of a particularly beautiful roe and ordered it to be caught alive. All the courtiers rushed to fulfil the king's wish. The roe ran from the hounds and hunters in despair, not knowing which way to leap, until it reached a high limestone cliff, now known as the Baltic Bluff. From there it fell. In this scenic spot, between two city gates, Nunnevärav (Nuns' Gate) tower and a foregate with a drawbridge, a little statue was later erected in the deer's memory, sculpted by the artist Jaan Koort. There were many attempts to destroy or steal it, but the people were so fond of the statue that it was always restored. It was thought that Tallinn's German name, Reval, derived from the words «Reh-Fall» (fall of the roe), although in all likelihood the German Reval, like the Russian Revel, derives from the name of the district that surrounded Tallinn in ancient times, Rävala. Another story tells of a king who lived in Denmark nearly a thousand years ago. One day he discovered that his son and daughter were having a forbidden love affair. The king believed the guilt lay with his daughter, and decided to banish her from his lands. He had her set adrift in a rudderless ship on the open sea. The ship sailed for a long time, until one day it reached the coast of Estonia.

The princess cast anchor and went ashore to see the country, where Kalev's burial mound caught her eye. What she saw so pleased her that she decided to found a city here. She had the ample gold and silver which she had brought with her carried up to the summit of the hill to pay for a magnificent palace to be built, with a little town to surround it. She gave houses to some of the builders. Thus little by little a sumptuous town arose. When her father heard of it, his first thought was to bring it under his domination. He arrayed ships to sail to Estonia.

However, the townspeople guessed the intention of the foreign sailors. They vanquished the Danes and remained masters. Thus the city became known as Taanilinn (Danish Town), which later was abbreviated to Tallinn.
Mõõdud 126 × 190 mm
ISBN13: 9789985969182